It would be an understatement to say that the role of technology in health care is significant and growing. Health technology now goes far beyond telehealth and patient management, with great strides being seen in the areas of digital therapeutics, health management devices, and health tracking technology. Companies (like Papa) have developed technology that allows members to get easy, unfettered access to the services they need in a way that's both safe and life-changing. Unfortunately, in our current health care system, digital health solutions aren't always equitable.
Technology can be a tool for better health, but only if members have access to it and are able to engage with it. Papa has seen compelling results in this arena. One Papa Study (not to mention a similar Johns Hopkins study) showed that health care utilization improved significantly when patients had digital-health-based interventions.
With the growing impact of health technology solutions comes a growing importance placed on digital health literacy. Because of this, Papa is investing time and resources into improving the digital health literacy of our members. We hope to not only expand our own understanding of how digital health literacy impacts the health of our members, but how it can be leveraged to improve health in each community we serve.
Why is digital health literacy important?
The World Health Organization defines digital health literacy as ''the ability to seek, find, understand, and appraise health information from electronic sources and apply the knowledge gained to addressing or solving a health problem." Some examples include the ability to look up reliable health information online, access electronic health records, communicate electronically with a health care team, download video conferencing software for telehealth appointments, or even to use health and wellness apps.
Imagine if a doctor just handed a patient medication and told to take it without telling the patient how much to take, when to take it, or what possible interactions that medication may have.
It would be unheard of, right?
There is a reason that prescriptions are handled through qualified doctors and pharmacists: Health is complex, drugs are complex, and only through appropriate use are they safe and effective. Health technology is similar. It's powerful and effective and can make a big impact on a patient's health, but patients, doctors and caregivers have to use it correctly for it to work.
For example, if a health care clinic uses a website to schedule health care visits, a patient must be able to use that website in order to get an appointment. Likewise, if a patient is using an app to secure essential support services such as transportation to a doctor's appointment or social support, and they aren't able to correctly procedure the services using the app, their health care needs will go unmet. Or, for a more complex scenario, a patient could be asked to use a digital device to track and record cardiac stats for their cardiologist, the accuracy of those stats is imperative for the cardiologist to create a treatment plan.
Most health care professionals wouldn't dream of sending home medication with a member who didn't know how to take it.
It's time we start doing the same thing for health technology.
Are Americans digital health literate?
In the last quarter of a century, the vast majority of Americans have become tech literate. In 2000, just over half of American adults used the internet on a regular basis. Now that number is 89%. This is great– more and more access and literacy when it comes to technology means more and more Americans have access to the tools they need to live, thrive and stay healthy.
Additionally, there is still a large population of people who experience significant barriers that don't allow them to embrace technology in general.
Some barriers to digital health literacy:
lower health literacy in general
lack of access to or experience using devices like smartphones or computers
lack of access to the internet
having a disability including not being able to hear or see well
not having health apps or websites available in their preferred language
not having people in their homes who could help them use technology
Digital health literacy as a route to health equity
Additionally, poverty creates a barrier to tech devices and, according to a Pew Research study:
97% of Americans who earn over $100k own a smartphone.
87% of Americans earning between $30k and $100k own a smartphone.
Only 76% of those in the lowest income brackets own a smartphone.
95% of Americans between the ages of 30-49 own a smartphone.
83% of Americans between the ages of 50-64 own a smartphone.
But only 61% of older adults over the age of 65 own a smartphone.
How Papa is approaching digital health literacy
At Papa, we have placed ourselves on the front lines in order to support our members. We want every member to have access to the best health care they can get to meet their needs. Which is why we are really focusing on how we can help support our health plan partners and their health equity objectives by improving digital health literacy.
One thing we do that seems simple but makes a big difference: Members can request tech help from our Papa Pals. Whether it's setting up tech devices, assisting with telehealth appointments, or teaching members how to make video calls to family and friends, our Papa Pals are ready to help. In fact, 15% of Papa members request this help when they enroll in Papa.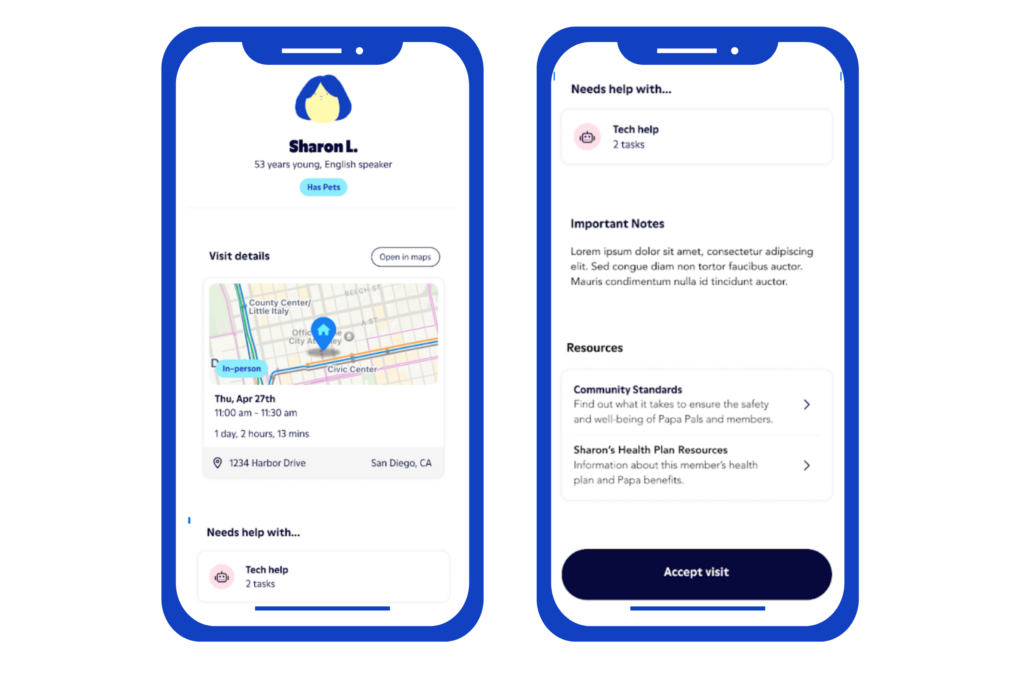 Additionally, we support Digital Health Literacy by providing resources for our Papa Pals on how to best help members use health technology. Our Papa Pals have been helping members to access telehealth appointments and use apps and other technology since Papa started, and we will continue to equip them with resources that they can use to help increase the digital health literacy of our members.
Papa Pals can teach members how to register for virtual urgent care using a health care system's website or app, to register and sign up for prescription care cards, to use apps to fill prescriptions and to use computers to access benefits information so that members are able to use the health tech applications that they need and use most.
Recently, CMS introduced new policies designed to address telehealth disparities, and in 2024 CMS is requiring that all Medicare Advantage enrollees have access to a digital health literacy program. At Papa, this is core to our mission and vision. Improving digital health literacy and achieving telehealth equity is critical in order to increase access to care, improve health outcomes, and reduce health disparities.
As we say at Papa, "we're here to help." When it comes to digital health literacy, we really are here to help. We want our members to have access to the latest health information and technology so they can be healthier– and we want to help them not only have access, but to use it in the best ways possible.
We aren't saying we have all the answers– yet, at least– but we are committed to investing in digital health literacy for our members, health plan partners and for the communities we serve.