Understanding Pal Earnings
Learn about how Pals are paid and what they can earn, plus find out how to set up payments so you can be paid quickly.
Read this guide to find out everything you need to know about how Papa Pals get paid.
To receive payment as a Papa Pal, you need to register with Stripe, which is our third-party payment platform. Follow the steps below to set up your account.
Step 1: Find and open the email you received from Papa with the subject line "Action Required: Getting Paid for Papa Visits". Click the "Register Stripe Account" button. Make sure you sign up within 7 days of receiving this email as the link will expire.
Step 2: You will be redirected to a Stripe webpage where you will need to fill out your account login information. Ensure that the email you provide matches the one you used to sign up as a Papa Pal. After you have filled in the required fields, click the "Continue" button. You will receive a verification code for the mobile phone number you entered. Enter that six-digit verification code to move onto the next step.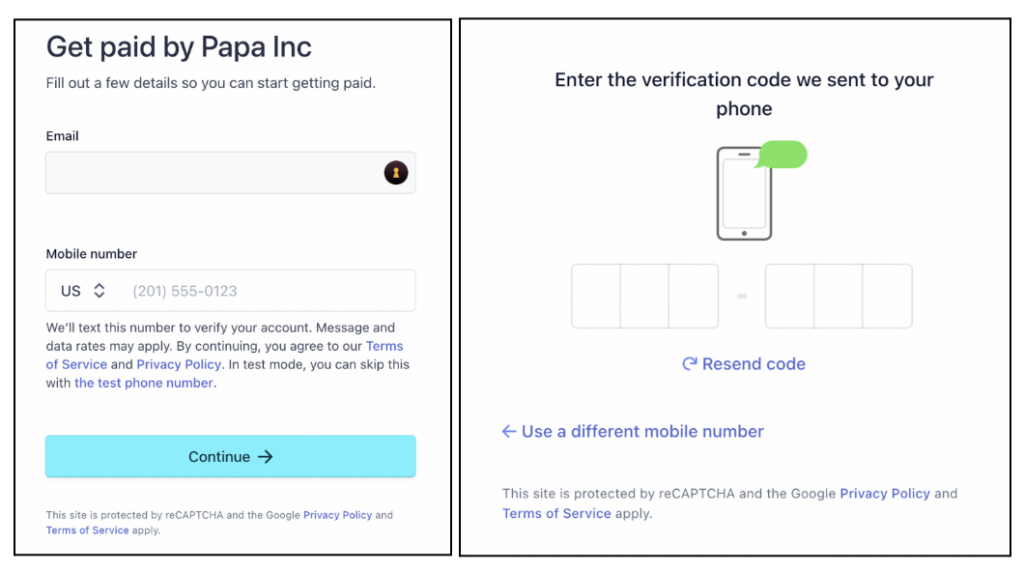 Step 3: Add your personal details to verify your identity and ensure that you receive your payments. After you have filled out all the information, click "Continue" to proceed.
Step 4: Set up your payment method. You can either link to your bank account or your debit card. To link a bank account, enter your routing number and account number. To link a debit card, enter your debit card number and expiration date. Once you have entered the information, click the "Save" button to continue.
After completing these steps, you are all set! You can log in to Stripe at any time to view your account information or your future payments.
You will be paid based on the time you spend with a member. The minimum compensation for a visit is 1 hour, and after one hour, compensation will be based on the exact time worked. Hourly rates vary by state.
You are paid for miles you travel during a visit, whether with or without the member. For example, when you drive a Papa member to the pharmacy or grocery store or the member asks you to drive and drop off a package. Transportation pay rates vary by state.
You may also be paid for your commute, which is the distance driven from their starting location to the visit location. Commute pay is only applicable in certain states and is for the way to the visit only.
All payment details by state can be found below:
You have the opportunity to earn different kinds of bonuses in addition to your base pay.
Below are the details of the Daily and Weekly bonuses that reward you for completing a set number of visits within a specific timeframe. Weekly point accumulation starts on Monday and goes through the end of Sunday.
Bonuses for specific visits may also be offered, depending on demand in your area. When available, these will show up in the Papa Pal App or will be communicated to you via email or SMS.
You can also receive bonuses for referring friends to become Pals. For more information on how to refer friends and what type of bonuses you can receive, visit our Pal Referrals page.
Visit payments and Daily bonuses are processed the next business day after the visit is completed. It will take 1 to 2 business days for payments to be reflected in your bank account.
Weekly and other special bonuses are processed on Tuesdays, and it will take 1 to 2 business days for payments to be reflected in your bank account. Please note that payments are not processed on weekends or holidays.